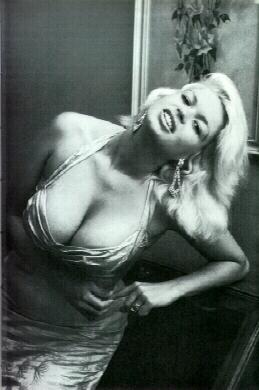 Mansfield's career had lost its bounce.
Who: Jayne Mansfield and Anton LaVey

When: October 20, 1966

Where: 6114 California Street @ 23rd Avenue


Several months before she died in 1967 a London newspaper took the full measure of Hollywood's Jayne Mansfield and found her breasts two inches larger than the 40" she had always claimed for them. Mansfield's reaction was typical:

"Oooh" she squealed. ". . .I'm a big girl now!"

A desperate girl, too. For 12 years, Jayne Mansfield had popped eyes and exploded flashbulbs whenever she went. But in 1966, at the age of 33, Hollywood's perennial bimbo was tottering on the brink of irrelevance. What titillated in the 50s seemed tiresome to a decade heading toward its summer called Love. Serious movie offers vanished. Press coverage evaporated. As her career faded, publicity ceased being a means to an end; it was the end. When the 1966 San Francisco Film Festival offered Mansfield a plane ticket to its October 20 premiere, she eagerly accepted. (So says Mansfields biography; the festival claims she showed up uninvited.)

However she got there, Mansfield created a sensation - arriving at the Masonic Auditorium premiere on Friday in a hot pink dress with side vents advertising her charms but no bra or panties. Those stayed behind in the hotel. Her costume outraged the Festivals general manager David M. Sacks, who later recounted his confrontation with the star.

"Madame," he said. "I do not know how much a pound you are charging, but whatever it is I will pay it if you will leave."

Sacks added the festival might need "sexy starlets" but in his opinion "Miss Mansfield does not meet that standard." Mansfield squeezed back into the dress to call upon various newspaper city rooms. She wanted the journalists to see what the fuss was about.

"Well?" she cooed to one reporter, "It's better than topless, isn't it?"

That weekend Mansfield and her lover, Hollywood lawyer Sam Brody, heard about Anton LaVey from other festivalgoers. The founder of San Francisco's new Church of Satan, LaVey, 36, had been in the news recently for his Black Mass replete with naked women draped across altars. The occult was no stranger in town, but in the '60s devil worship was seen as another sign that the End was at hand. Did LaVey really commune with Old Scratch? Who cared? If journalists called, His Satanic Majesty could be trusted to have a sound bite waiting. And when someone at a party in Russian Hill's Royal Towers apartments suggested a drive out to the Richmond to meet the Black Pope himself, the blonde bombshell agreed.

LaVey welcomed the revelers into his all-black Victorian home on California Street. Mansfield later told her friend and biographer May Mann, "Mr. LaVey took me into another room to show me the black-magic charms from the devil, and he presented me with one. He said I was now the high priestess of his church."

Already crowned Miss Freeway, Miss Geiger Counter, and Miss Tomato, Mansfield probably just shrugged. What was another title to the Queen of the Chihuahua Show?

"I didn't want to insult him," Mansfield told Mann. Brody, however, mocked the ceremony, infuriating LaVey, who shouted at him, "You are cursed by the devil. You will be killed within a year." (LaVey had also cursed the Sutro Baths. He told reporters they burned down just 36 hours later.)

In June 1967 LaVey packed cape and horns and hopped the shuttle to LA for a photo shoot with Mansfield at her Pink Palace. Mansfield probably welcomed the diversion. Her career and life were in free fall. Two weeks after LaVey's visit, Brody, Jayne and three of her children flew to Biloxi, Mississippi, where Jayne was to play in a dinner theater. On June 29, travelling at night on a dark stretch of road near New Orleans when their car ran under a semi. The driver, Brody and Mansfield were killed instantly. The children, asleep in the back seat, were unharmed. A blonde wig photographed at the accident scene gave rise to the rumor she had been decapitated.

Public reports of the hex don't predate the auto accident. Posthumously, though, it became a murky legend - along with its perpetrator.

By the '70s LaVey had faded into the Richmond. Sometimes Irish boys from the Sunset, high on beer, gathered at his door to recite Our Fathers and other Church hymns until LaVey chased them off with a shotgun. He still played his organ late into the night, but by the '80s the neighbors heard less black mass and more '40s standards: It Had to Be You and Let a Smile Be Your Umbrella. The Goth craze in the early 1990s brought renewed interest in LaVey. Marilyn Manson came to call, but the old sorcerer disliked rock music.

"It's been the end of romance," he said.

LaVey died on October 29, 1997. Mourners included devil worshippers and reporters everywhere.



Andrew Nelson lives and writes in San Francisco.