Who: Dianne Feinstein, Marilyn Chambers, and Jim and Artie Mitchell

When: February 1, 1985

Where: The O'Farrell Theatre, 895 O'Farrell Street


B rothers and business partners Jim and Artie Mitchell never looked like sleazeballs. Sporting sweater vests and Seals and Crofts-style caps, they could have been mistaken for real estate agents in their hometown of Antioch. Except the two were fraternal pornographers who just happened to make the Spiderman of smut.

"The only Art in this business is my brother," Jim said modestly; the truth is, the Mitchell brothers were visionaries of one-handed entertainment. In 1969, they opened the cleanest dirty-movie house in the Tenderloin, the O'Farrell Theatre. Three years later, they released the X-rated film Behind the Green Door, starring an apple-cheeked former Ivory Snow model named Marilyn Chambers. The brothers spent $60,000 and made $20 million.

Their innovation? A plot.

By the mid '80s the O'Farrell had become a world-class flesh temple featuring films and live sex acts where women gyrated, jiggled and convulsed to packed houses day and night. The talent included one Honeysuckle Divine celebrated for playing a trumpet with her vagina.

City Hall, just three blocks away from Sin Central, stewed. Mayor Diane Feinstein. She detested the porn industry. Police raids became a regular occurance in the Tenderloin and especially the O'Farrell. The brothers retaliated.

"Those were the days," Chambers wistfully recalled in an interview two years ago. "We put Dianne Feinstein's home phone number out on the marquee for info on show times. She'd get calls at 2 a.m."

Perhaps sleep deprivation took a toll. On February 1, 1985, Chambers was undulating at the O'Farrell when a dozen cops raided the place and arrested her for prostitution. "I don't take tips, so how could I be soliciting?" she protested.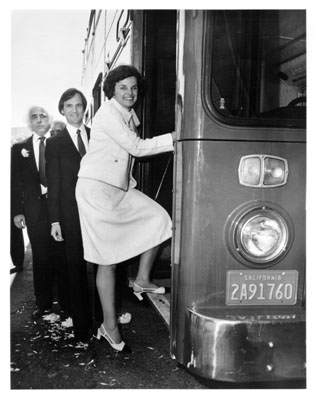 Her Honor DianeFeinstein boarding a San Francisco band wagon. Courtesy Public Library, San Francisco
The bust was a disaster. So many jailhouse officers posed for snapshots with the actress that it delayed her release. Then the charges were dropped for lack of evidence. Even worse, when then--Chronicle columnist Warren Hinckle ridiculed the city's war on smut, the police arrested him too, 12 days later. The charge: walking his basset hound without a leash.

"Clerical error," explained police chief Con Murphy to the newspapers.

"Dumb, dumb, dumb!" sputtered DiFi about the Hinckle arrest, though her sentiments could have applied to the entire fiasco.

Feinstein's career did not suffer; she is currently U.S. senator from California. The O'Farrell remains in business, but the brothers' story is tragic. During a 1991 argument, Jim shot and killed Artie. Convicted of voluntary manslaughter, he was released from prison in 1997.

In the meantime, the politics of porn were shifting. On July 28, 1999, the Green Door girl, by then nearly 50, returned to the O'Farrell stage. Mayor Willie Brown proclaimed it Marilyn Chambers Day in San Francisco.

Andrew Nelson lives and writes in San Francisco.