Who: Frida Kahlo and Diego Rivera

When: December 8, 1940

Where: 42 Calhoun Terrace, Telegraph Hill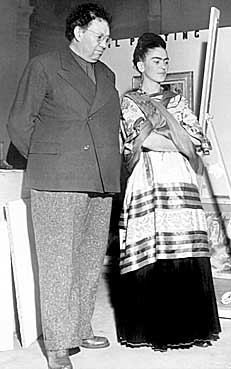 Rivera and Kahlo
Just like countless other troubled couples, Frida Kahlo, 30, and Diego Rivera, 54, had hoped San Franciscos physical intimacy might rekindle their own. Married for ten years and divorced for one, the Mexican artists found themselves back together on Telegraph Hill at the end of 1940 negotiating a weary truce.

Rivera had arrived in June to paint Pan American Unity, a 75-by-22-foot mural celebrating the commingling of the Americas commissioned by the Golden Gate International Exposition and promised to San Francisco Junior College (now City College of San Francisco). The work, on one level, was literal. Rivera immortalized his own love triangle: depicting himself with his back to his ex-wife and facing his lover, Hollywood star Paulette Goddard. Why, curious reporters demanded, was Goddard holding his hand?

To promote "closer Pan-Americanism," Rivera replied.

Kahlo, who knew better, stayed away from the murals unveiling. "I do not want to meet Paulette and other dames," she said. Yet despite the "dames" and other lovers each had enjoyed (Kahlo was bisexual), they still cared for, still needed, one another.

So on Sunday, December 8, Rivera and Kahlo went to City Hall. The press, as usual, tagged along.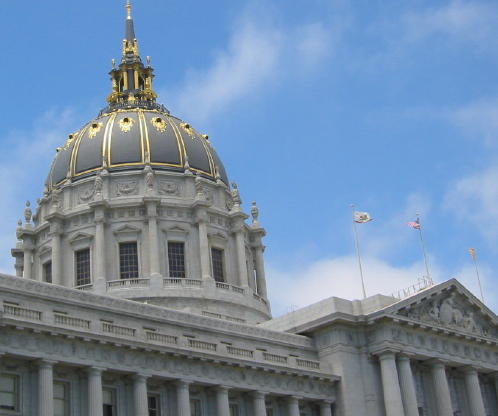 They remarried with the press on hand.
"Large, lumbering Diego Rivera appeared with slim, sleek Frida Kahlo," recorded the Chronicle. "The judge murmured a few words, the groom kissed the bride and the great artist returned to a state of marital bliss."

Nobody knew that Kahlo, a painter whose posthumous reputation would burn brighter than her husbands, had exacted conditions for her return: She would be financially independent. He would pay half the household expenses. And there would be no sex between them.

The honeymoon proved short. Kahlo left for Mexico before Christmas, two months ahead of her husband. She never visited San Francisco again. With war on the way, Pan American Unity was taken down the following year and mothballed. It stayed in storage for 20 years. Rivera, who died in 1957, never saw it again. In 1961 the mural was hung in City Colleges theater lobby, where it remains a record of private and public passions today.



Andrew Nelson lives and writes in San Francisco.